About
In this article we are going to review 17 mail clients for Linux divided in two parts, the first part is going to be Mail Clients for the GUI and the second part is going to be Mail Clients for the terminal.
Article contents:
1 – Thunderbird GUI Mail Client
On desktop, Thunderbird remains one of the top choices for Linux users. It's free and open-source, naturally, and was originally modeled after the Mozilla Firefox internet browser. This is most evident in Thunderbird's tabbed email interface, which you can use to keep multiple emails open at a time for quick reference.
Key features:
Thunderbird comes pre installed in Ubuntu Linux
Mail Account Setup Wizard
Mail Account Setup Wizard
Attachment Reminder
Tabbed Email
Quick Filter Toolbar
Search Tools
Message Archive
Large Files Management
Smart Folders
Add-ons Manager
Phishing Protection
and more…
Official Website: HERE
2 – Evolution GUI Mail Client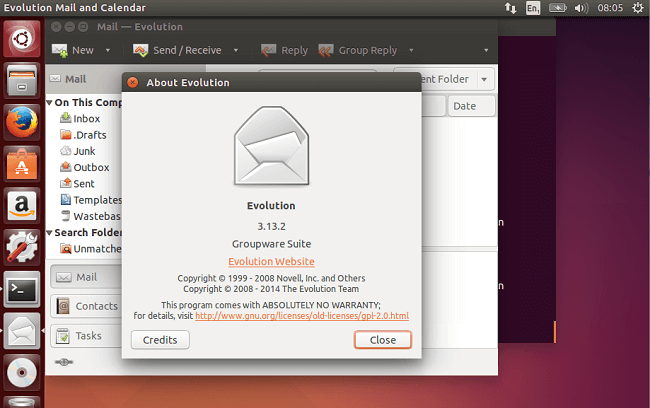 Evolution is the official personal information manager and mail client for the GNOME Desktop Environment. It is Free and Open Source Software, licensed under the GPL.
It is usually distributed with the GNOME Desktop Environment with Linux, making it likely available either upon installation of a Linux distribution that uses GNOME, such as Ubuntu, or available via your distribution's Package Manager. Evolution is also available for Windows.
Key features:
E-mail retrieval with the POP and IMAP protocols and e-mail transmission with SMTP
Secure network connections encrypted with SSL, TLS and STARTTLS
E-mail encryption with GPG and S/MIME
E-mail filters
Search folders: saved searches that look like normal mail folders as an alternative to using filters and search queries
Automatic spam filtering with SpamAssassin and Bogofilter
Connectivity to Microsoft Exchange Server, Novell GroupWise and Kolab[8] (provided in separate packages as plug-ins)
Calendar support for the iCalendar file format, the WebDAV and CalDAV standards and Google Calendar
Contact management with local address books, CardDAV, LDAP and Google address books
Synchronization via SyncML with SyncEvolution and with Palm OS devices via gnome-pilot
Address books that can be used as a data source in LibreOffice
User avatars loading from address book, e-mail headers X-Face, Face or automatic lookup by hashed e-mail address
from Gravatar service
An RSS reader plug-in[9]
A news client
Import from Microsoft Outlook archives (dbx, pst) and Berkley Mailbox
# How to install Evolution on Ubuntu 21.04 Linux ?




$ sudo apt install evolution  


Code language:

 

PHP

 

(

php

)
Official Website: HERE
3 – Mailspring GUI Mail Client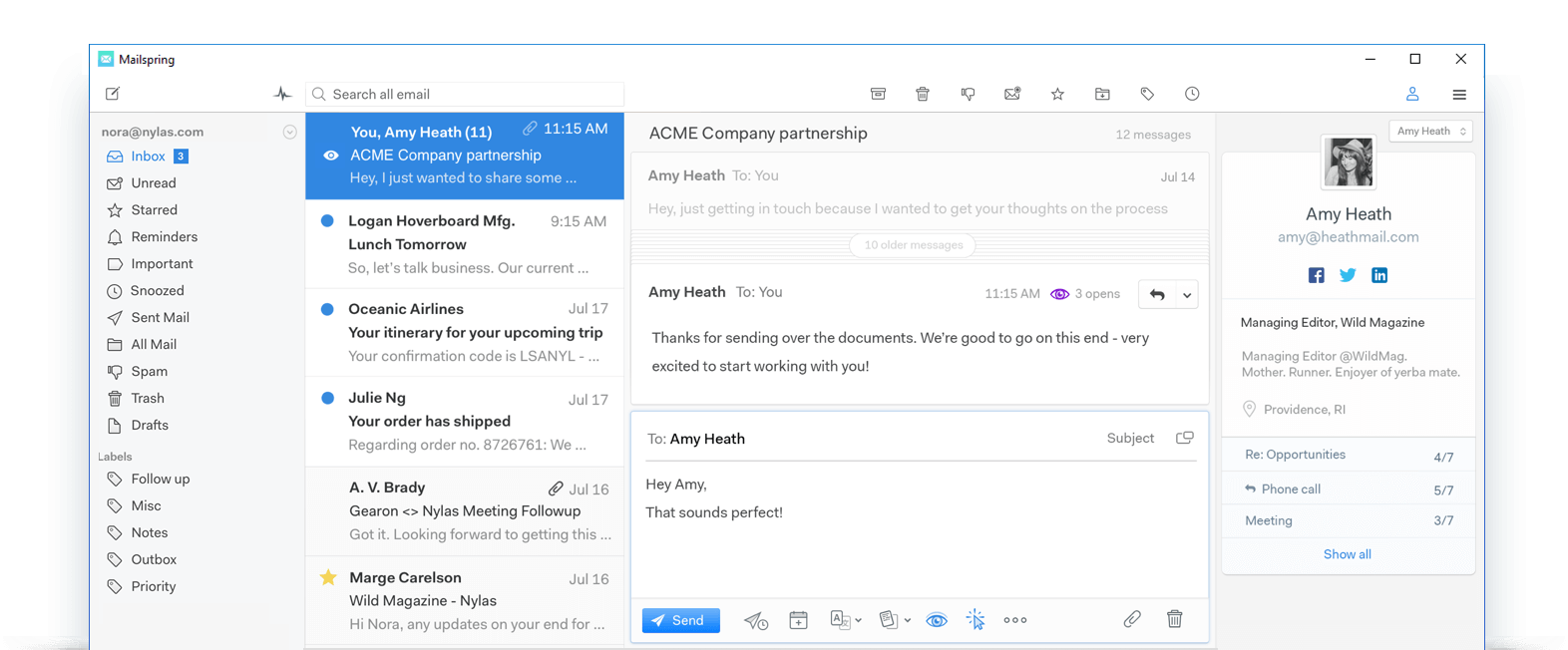 Mailspring is a desktop email client with modern features like unified inbox, snoozing, reminders, templates, offline search, and support for Gmail labels. It even has a built-in "dark" and "ubuntu" themes so you can style it to match your desktop.
Mailspring is absolutely free and supports all IMAP providers, including Gmail, Office 365 and iCloud. Mailspring does not support Microsoft Exchange ActiveSync.
Key features:
Multiple accounts (IMAP & Office 365)
Touch and gesture support
Advanced shortcuts
Lightning-fast search
Undo send
Unified Inbox
Read receipts, link tracking, and more
Mac, Windows, and Linux support
Themes and layouts (including dark mode)
Localized into 9 languages
# How to install Mailspring on Ubuntu 21.04 ?




$ sudo snap install mailspring


Code language:

 

PHP

 

(

php

)
Official Website: HERE
4 – Trojitá GUI Mail Client
Trojitá is a free software IMAP and SMTP email client developed using the Qt C++ library. The design goals of the maintainers are to develop a fast e-mail client which respects open standards, is cross-platform and uses the available resources very efficiently.
Trojitá offers to manage contacts in the abook format, as introduced by the text-based user interface abook addressbook program. In Autumn 2012, Trojitá became a part of the KDE community.
Key features:
Enables you to access your mail anytime, anywhere.
Does not slow you down. If we can improve the productivity of an e-mail user, we better do.
Respects open standards and facilitate modern technologies. We value the vendor-neutrality that IMAP provides and are committed to be as interoperable as possible.
Is efficient — be it at conserving the network bandwidth, keeping memory use at a reasonable level or not hogging the system's CPU.
Can be used on many platforms. One UI is not enough for everyone, but our IMAP core works fine on anything from desktop computers to cell phones and big ERP systems.
Plays well with the rest of the ecosystem. We don't like reinventing wheels, but when the existing wheels quite don't fit the tracks, we're not afraid of making them work.
# How to install Trojitá on Ubuntu 21.04 Linux ?




$ sudo apt-get install trojita-data


Code language:

 

PHP

 

(

php

)
Official Website: HERE
5 – Claws GUI Mail Client
Claws Mail is a free and open-source, C/GTK-based e-mail client, which is both lightweight and highly configurable. Claws Mail runs on both Windows and Unix-like systems such as Linux, BSD, and Solaris. It stores mail in the MH mailbox format. Plugins allow to read HTML mail, but there is none to compose HTML messages. Claws Mail relies on manual setup for email accounts, offering no automatic configuration.
Key features:
Search and filtering, optionally via Perl and Python scripting
Security (GPG, SSL, anti-phishing)
Anti-spam (SpamAssassin, Bogofilter)
Per-folder preferences
Optional external editor
Templates for messages
Themes support, customisable toolbars, X-Face support, foldable quotes
Viewers for HTML mail (Dillo, Gtkhtml2, Fancy (WebKit)), TNEF attachment parser, PDF viewer
Various notification plugins, e. g. trayicon and LED handler
Archiving, import/export from standard formats
Support for Mbox mailbox format
Calendaring with events as kind of messagess
# How to install Claws Mail Client on Ubutntu 21.04 Linux ?




$ sudo add-apt-repository ppa:ubuntuhandbook1/claws-mail


$ sudo apt update


$ sudo apt install claws-mail


Code language:

 

PHP

 

(

php

)
Official Website: HERE
6 – Sylpheed GUI Mail Client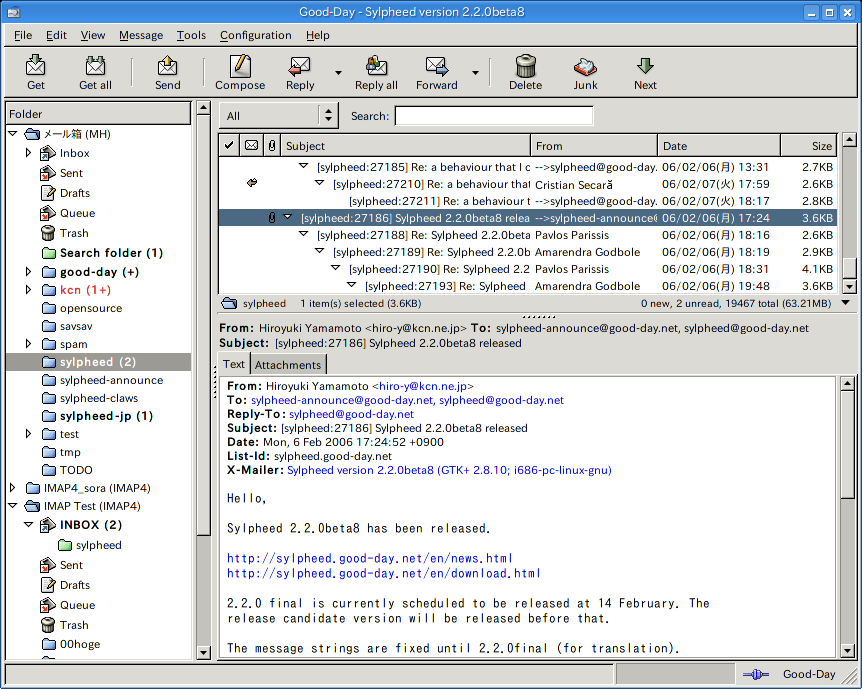 Sylpheed is a simple, lightweight but featureful, and easy-to-use e-mail client. It provides intuitive user-interface. It's also designed for keyboard-oriented operation, so Sylpheed can be widely used from beginners to power users. Also runs on many systems such as Windows, Linux, BSD, Mac OS X and other Unix-like systems. Sylpheed is a free software distributed under the GNU GPL (the library part is GNU LGPL). You can freely use, modify and redistribute it under the license.
Key features:
Simple, beautiful, and well-polished user interface
Comfortable operationality which is built in detail
Well-organized, easy-to-understand configuration
Lightweight operation
High reliability with one-mail-corresponding-to-one-file format
Extensibility by plug-in faculty
Powerful filtering and search
Junk mail control
Security features (GnuPG, SSL/TLSv1)
Various protocols support
Internationalization and Multilingualization support
High-level Japanese processing
Flexible cooperation with external commands
# How to install Sylpheed on Ubuntu 21.04 Linux ?




$ sudo apt install sylpheed


Code language:

 

PHP

 

(

php

)
Official Website: HERE
7 – Geary GUI Mail Client
Geary is a free and open-source email client written in Vala and based on WebKitGTK. Although since adopted by the GNOME project, it originally was developed by the Yorba Foundation. The purpose of this e-mail client, according to Adam Dingle, Yorba founder, was to bring back users from online webmails to a faster and easier to use desktop application.
Key Features:
Supports Gmail, Yahoo! Mail, Outlook.com, and popular IMAP servers.
Mail organized by conversations.
Support for sending as another identity.
Full-featured HTML mail composer.
Support for reading TNEF attachments.
Fast keyword search with values like from:john, is:read, is:unread and is:starred.
Desktop notification of new mails.
GNOME Keyring integration to store passwords for email accounts.
# How to install Geary GUI Mail Client On Ubuntu 21.04 Linux ?




$ sudo add-apt-repository ppa:geary-team/releases


$ sudo apt update


$ sudo apt install geary


Code language:

 

PHP

 

(

php

)
Official Website: HERE
8 – BlueMail GUI Mail Client
BlueMail by Blix a free, beautifully designed, universal email app, capable of managing an unlimited number of mail accounts from various providers, allowing for smart push notifications and group emailing while enabling personalization across multiple email accounts. The BlueMail app connects directly to your mail server and is the perfect replacement for your stock email app.
Key Features:
People-Centric – Tapping Blue's People Switch makes it more easy for your wonderful friends, family, and customers to reach out and say hello.
Clusters – Clusters spring into action and bring together People, Groups, and Services to make the inbox become tidy with stacked avatars.
Group Mail – Bringing people together with Group Mail enables you to send emails to a group without adding each member individually.
Unified Inbox – View all of your accounts in one beautiful and centrally located inbox and make reading emails even more efficient and easy.
Get Stuff Done – Quickly mark emails to be handled later and set reminders for them. Let Blue help turn your to-do list of emails into a do-done list.
Instant Push – BlueMail intelligently pushes your emails so they arrive to your device at instantaneous speeds saving valuable time.
Integrated Calendar – Access your Calendar and plan events right from within BlueMail. Customize exactly how and when you receive your Calendar reminders.
Easy to Configure – Setup is an effortless breeze and by simply signing into your email accounts, your inbox will be ready and waiting for you.
Dark Theme – Seamlessly and automatically switch between day and night mode with ease to make late night emails easier to take care of.
# How to install BlueMail on Ubuntu 21.04 Linux ?




$ sudo snap install bluemail


Code language:

 

PHP

 

(

php

)
Official Website: HERE
9 – KMail GUI Mail Client
KMail is the default mail client you'll find on most KDE-based Linux distributions. This means it has tight integration with the KDE desktop and other applications made by KDE. For example, meeting invitations you receive can be automatically detected and sent to KOrganizer calendar, and the auto-completion of email addresses is handled by KAddressBook.
Key features:
Secure – KMail has secure default settings to protect your privacy, great end-to-end encryption support, and spam detection.
Powerful – Features include offline support, multiple sender identities, multi-language support, powerful filtering, searching and tagging functionality, mailing list management and very flexible configuration.
Integrated – Meeting invitations can be easily added as events into KOrganizer, address auto-completion, avatars and crypto preferences are loaded from KAddressBook.
Standard Compliant – Supports standard mail protocols, push email, server-side filtering and inline OpenPGP, PGP/MIME and S/MIME.
# How to install KMail on Ubuntu 21.04 Linux ?




$ sudo apt install kmail


Code language:

 

PHP

 

(

php

)
Official Website: HERE
10 – SeaMonkey GUI Mail Client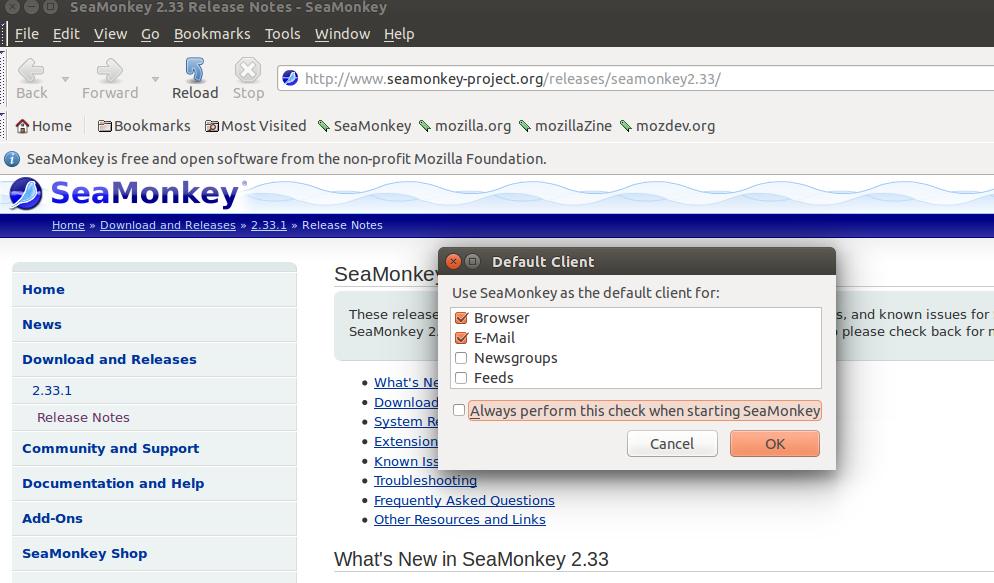 SeaMonkey is an all-in-one internet software suite developed by Mozilla. SeaMonkey is a web browser, advanced email, and newsgroup feed client. It also offers an HTML editor, IRC chat integration, web development tools, etc. SeaMonkey used Mozilla code and is considered as powerful as Firefox and Thunderbird email client.
Key Features:
Tabbed Mail lets you manage your mail and folders in parallel, without losing control of where you're at when reading, replying to and working with messages in more complex patterns.
Junk mail controls help you take back control of your e-mail from spammers. SeaMonkey's adaptive junk mail control gets smarter with use and is personalized to the e-mail that you receive.
Manage your mail with customizable Tags and Mail Views. Color code your e-mail to help you prioritize. Filter your mail with views to help you sort through your e-mail much faster.
Multiple accounts support helps you manage all your mail through one interface.
Blogs & News Feeds is a reader for RSS and Atom feeds right in your messaging center that eases your reading of information from all across the web.
SeaMonkey Mail & Newsgroups includes enterprise-ready features such as S/MIME, return receipts, address books, LDAP support, and digital signing.
# How to install SeaMonkey on Ubuntu 21.04 Linux ?


$ 

echo

 -e 

"\ndeb http://downloads.sourceforge.net/project/ubuntuzilla/mozilla/apt all main"

 | sudo tee -a /etc/apt/sources.

list

 > /dev/

null




$ sudo apt-key adv --recv-keys --keyserver keyserver.ubuntu.com C1289A29


$ sudo apt update


$ sudo apt install seamonkey-mozilla-build


Code language:

 

PHP

 

(

php

)
Official Website: HERE
1 – NeoMutt Terminal Mail Client
NeoMutt is a small but very powerful text based program for reading and sending electronic mail under Unix operating systems, including support for color terminals, MIME, OpenPGP, and a threaded sorting mode.
NeoMutt is configured through variables which, if the user wants to permanently use a non-default value, are written to configuration files. NeoMutt supports a rich config file syntax to make even complex configuration files readable and commentable.
Key Features:
Attach Headers Color – Color attachment headers using regex, just like mail bodies
Compose to Sender – Send new mail to the sender of the current mail
Compressed Folders – Read from/write to compressed mailboxes
Conditional Dates – Use rules to choose date format
You can see the full list from here
# How to install NeoMutt on Ubuntu 21.04 Linux ?


$ sudo apt install neomutt

Code language:

 

PHP

 

(

php

)
Official Website: HERE
2 – SUP Terminal Mail Client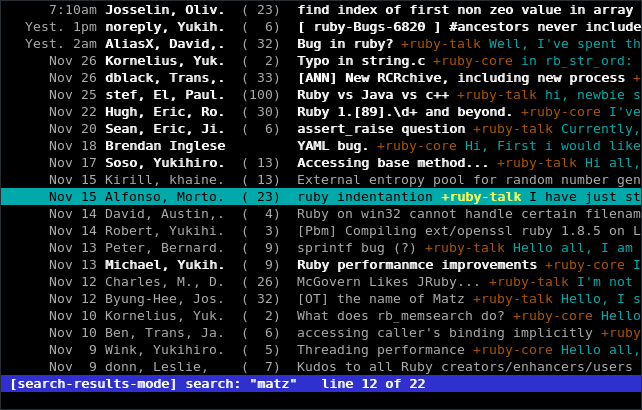 Sup is an email client written in Ruby, originally by William Morgan, but now maintained and developed by the Sup community. It presents an interface of a list of threads, which are each hierarchical collections email messages. Threads can have multiple tags applied to them. It supports a very fast full-text search, automatic contact-list management, custom code insertion via a Ruby hook system, and more.
Key Features:
Handle massive amounts of email.
Fast, local full-text index of messages.
Mix email from different sources: mbox files and maildirs.
Instantaneously search over your entire email collection. Search over body text, or use a query language to combine search predicates in any way.
Handle multiple accounts. Replying to email sent to a particular account will use the correct SMTP server, signature, and from address.
Add custom code to handle certain types of messages or to handle certain types of text within messages.
Take care of your privacy with full support of gpg.
Organize email with user-defined labels, automatically track recent contacts, and much more!
# How to install SUP on Ubuntu 21.04 Linux ?




$ sudo apt install sup-mail


Code language:

 

PHP

 

(

php

)
Official Website: HERE
3 – Mu4e Terminal Mail Client
mu4e is an emacs-based email client. It is fully search-based, with a UI optimised for speed with quick key stroked for common actions. Emails can be composed with rich-text using org-mode. Email addresses auto-completion is supported. Actions are asynchronous, so heavy actions never block emacs.
The basic idea is this: you configure an offline IMAP client to synchronise your remote email server with your local computer. Two possibilities for an IMAP synchroniser are mbsync and offlineimap. This post describes a setup using mbsync.
Key Features:
Fully search-based: there are no folders, only queries
UI optimized for speed with quick key strokes for common actions
Fully documented, with example configurations
Asynchronous: heavy actions never block emacs
Write rich-text e-mails using /org-mode/ (experimental)
Address auto-completion based on your messages – no need for managing address books
Extendable in many places using custom actions
# How to install Mu4e on Ubuntu 21.04 Linux ?




$ sudo apt install mu4e


Code language:

 

PHP

 

(

php

)
Official Website: HERE
4 – Mutt Terminal Mail Client
Mutt is a small but very powerful text-based mail client for Unix operating systems. The current stable public release version is 2.0.7. Though written from scratch, Mutt's initial interface was based largely on the ELM mail client. To a large extent, Mutt is still very ELM-like in presentation of information in menus (and in fact, ELM users will find it quite painless to switch as the default key bindings are identical). As development progressed, features found in other popular clients such as PINE and MUSH have been added, the result being a hybrid, or "mutt." At present, it most closely resembles the SLRN news client.
Key Features:
color support
message threading
MIME support (including RFC2047 support for encoded headers)
PGP/MIME (RFC2015)
various features to support mailing lists, including list-reply
active development community
POP3 support
IMAP support
full control of message headers when composing
support for multiple mailbox formats (mbox, MMDF, MH, maildir)
highly customizable, including keybindings and macros
change configuration automatically based on recipients, current folder, etc.
searches using regular expressions, including an internal pattern matching language
Delivery Status Notification (DSN) support
postpone message composition indefinetly for later recall
easily include attachments when composing, even from the command line
ability to specify alternate addresses for recognition of mail forwarded from other accounts, with ability to set the From: headers on replies/etc. accordingly
multiple message tagging
reply to or forward multiple messages at once
.mailrc style configuration files
easy to install (uses GNU autoconf)
compiles against either curses/ncurses or S-lang
translation into at least 20 languages
small and efficient
It's free! (no cost and GPL'ed)
# How to install Mutt on Ubuntu 21.04 Linux ?




$ sudo apt install mutt


Code language:

 

PHP

 

(

php

)
Official Website: HERE
5 – Alpine Terminal Mail Client
Alpine is a free software email client developed at the University of Washington. Alpine is a rewrite of the Pine Message System that adds support for Unicode and other features. Alpine is meant to be suitable for both inexperienced email users and the most demanding of power users. Alpine can be learned by exploration and the use of context-sensitive help. The user interface can be customized.
Key Features:
Support for several protocols such as IMAP, POP, SMTP and so on
Packaged with Pico text editor
Supports context-sensitive help on screen
Well documented
Not actively developed plus many more
# How to install Alpine on Ubuntu 21.04 Linux ?




$ sudo apt install alpine


Code language:

 

PHP

 

(

php

)
Official Website: HERE
6 – Wanderlust Terminal Mail Client
Wanderlust is a mail/news management system with IMAP4rev1 support for Emacs. It was originally developed by Yuuichi Teranishi.
Key Features:
Implementation in elisp only.
Integrated access to messages based on Folder Specifications like Mew.
Key bindings and mark processing like Mew.
Management of threads and unread messages.
Folder mode to select and edit subscribed folders.
Message cache, Disconnected Operation.
MH-like Fcc (Fcc: %Backup is possible).
Full support of MIME (by SEMI).
Draft editing of mail and news as a same interface.
Icon based interface for the list of Folder.
Skip fetching of a large message part of MIME(IMAP4).
Server side searching (IMAP4), internationalized searching is available.
Virtual folder.
Compressed folder.
Automatic expiration of old messages.
Automatic refiling.
Draft templates.
# How to install Wanderlust on Ubuntu 21.04 Linux ?




$ sudo apt install wl


Code language:

 

PHP

 

(

php

)
Official Website: HERE
7 – Aerc Terminal Mail Client
Aerc is an email client that runs in your terminal. It's highly efficient and extensible, perfect for the discerning hacker. Check out the screencast above to get an idea of how it's used.
Key Features:
Editing emails in an embedded terminal tmux-style, allowing you to check on incoming emails and reference other threads while you compose your replies
Render HTML emails with an interactive terminal web browser, highlight patches with diffs, and browse with an embedded less session
Vim-style keybindings and ex-command system, allowing for powerful automation at a single keystroke
First-class support for working with git & email
Open a new tab with a terminal emulator and a shell running for easy access to nearby git repos for parallel work
Support for multiple accounts, with support for IMAP, Maildir, SMTP, and sendmail transfer protocols
Asynchronous IMAP support ensures the UI never gets locked up by a flaky network, as mutt often does
Efficient network usage – aerc only downloads the information which is necessary to present the UI, making for a snappy and bandwidth-efficient experience
100% free and open source software!
# How to install Aerc on Ubuntu 21.04 Linux ?




$ sudo apt install aerc


Code language:

 

PHP

 

(

php

)
Official Website: HERE
Conclusion
In this article we showed you 17 mail clients for Linux, if you know more interesting mail clients, please comment in the comments bellow.
We hope you enjoyed this article. if that is so please rate this page with the stars bellow and subscribe to our YouTube channel or follow us on twiter.